Thanks to Penelope Paige of
Intent Forgotten
blog for giving me this blog award.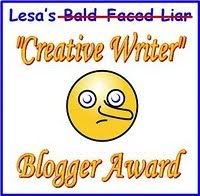 Here are the rules of the Creative Writer Blogger Award
Nominate SEVEN "Creative Writers"
Post links to the SEVEN blogs you nominate.
Leave a comment on said SEVEN blogs to let them know they've been nominated.
So here are my outrageous statements! If you pick which one's the truth, you'll be my seventh nominee! Just post which answer you think it is here!
1. Loves to go snowboarding. Especially with growing up in Utah.
2. I hate having things out of order. I guess this means I'm a very meticulous person.
3. Learned a few figure skating tricks during a youth activity with my church at the ice rink when I was 16.
4. I love to knit. Can't get enough of knitting fun!
5. Played on the boy's varsity soccer team my senior year of high school.
6. Took a tumbling class during one spring season just so I could do tricks off the high dive when I went swimming.
7. Has finally finished writing two full manuscripts of my stories.
Try to figure me out! Just comment on what you think the truth is and I'll make you the seventh nominee if you guess correctly first! I'll edit this post when someone gets the truth right.
Here are my blog award nominees:
1. The Mayor at
Mayor of Crazytown
2. Mrs. R at
The R House
3. Olivia at
Living, Loving, Learning
4. Shiloh at
Daydreaming Radishes and Dandelions
5. Clare C. Greenstreet at
Life of a Wannabe Writer
6. Emily Cross at
The Chronicles of Emily Cross
7. Guess my truth and you'll get this slot!
Watch for next time when I cover "be" #7: Be in Charge of Your Writing.
Ciao!